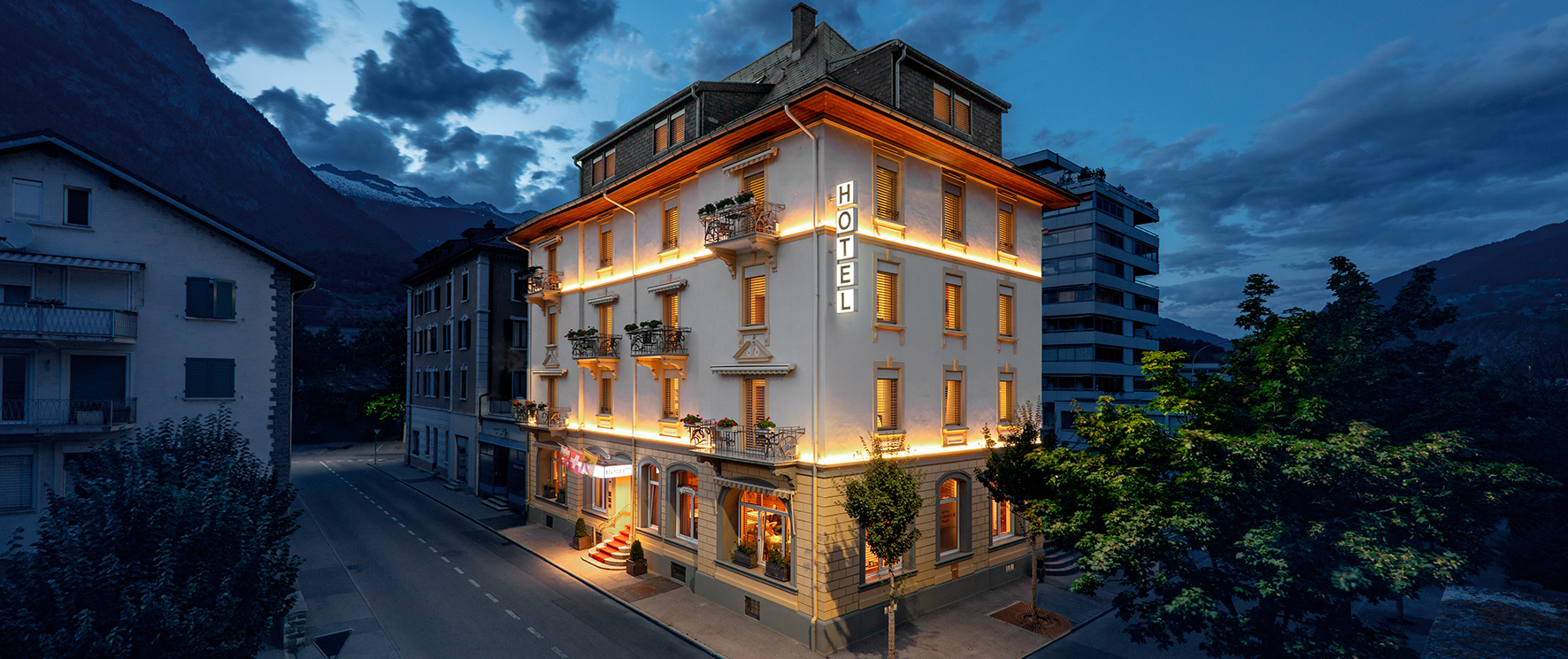 FAQ
How do I reach the Hotel Ambassador in Brig?
The Hotel Ambassador is situated in a quiet and central location - only 200 metres from Brig train station. You can reach us easily by train or car.
Are parking spaces available for guests?
From October to May, free parking is available right next to the hotel.
From June to September there is a chargeable Rhonesand car park 50 metres from the hotel (CHF 0.60 per hour, free overnight).
What is there to discover in Brig?
Brig, the crossroads of international routes, is also the starting point. Enjoyable days in the little town with the unique
Stockalper Castle
, offer just as many experiences as the excursions to the world-famous Valais sights and recreational areas. You can find more info under
Brig Tourism
and
Valais Tourism
.
What time is check-in?
The rooms are ready for occupancy from 14.00 hrs. If possible, we also release the rooms earlier. Otherwise, there is the possibility of luggage storage.
What time is check-out?
We ask guests to check out of their rooms by 11.00 am. We offer the possibility of late check-out on request.
What time is the reception desk staffed?
Our reception is open from 07.00 to 21.00 hrs. Should you arrive after 9 pm, please contact us by telephone on the day of arrival under
027 922 99 00
.
What does the breakfast buffet include and at what time can you have breakfast?
Our varied breakfast buffet is ready for you from 07.00 to 10.00.

Cold buffet
Bread, various jams, honey, jam, various muesli, various cheeses, various cold cuts of meat, fruit salad, bircher muesli.
Hot buffet
Scrambled eggs, bacon
Drinks
Coffee, tea, various juices, water, milk
How are the rooms equipped?
All our rooms are non-smoking rooms.
We offer a coffee machine with free coffee capsules and a small bottle of free non-carbonated mineral water in all rooms.
All rooms are equipped with slippers & toothbrush set.
Other attentions such as bathrobe, body milk, razor blades, hair comb... are standard in the double rooms Deluxe, the Junior Suites and the Attica Suite and available on request in the other room categories.
Is there a laundry service?
You are welcome to have your laundry washed by us. With the regular service, you will receive the laundry back within 24 hours. For the express service (delivery of the laundry in the morning until 10.00 a.m., you will receive the laundry back the same evening) we charge an extra 50% on top of the regular price.
When is the restaurant open?
Our restaurant is open daily from 07.00 to 23.00. The kitchen is open from 12.00 to 14.00 and from 18.00 to 21.30. Table reservations are highly recommended.